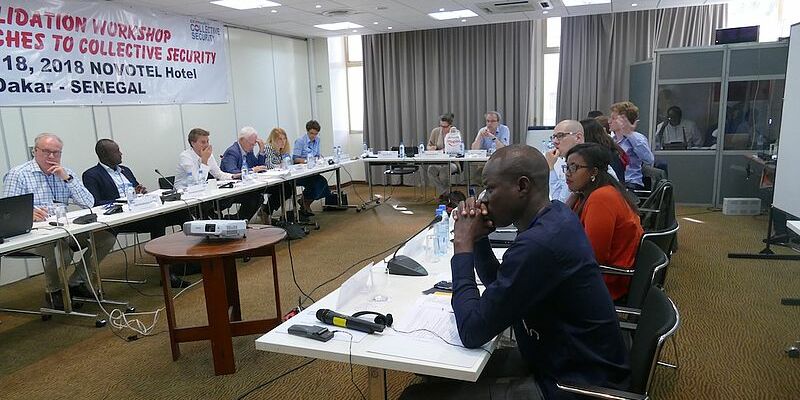 In the first instance, the concept of collective security refers solely to the external security of States. In a collective security system, the security of each individual State is insolubly bound up with the security of all the other States. The States agree to obey certain norms, regulations, and duties, equally applicable to all.
In many African countries violent conflict determines the socio-political agenda
There is no doubt that in many African countries violent conflict represents a major political and social challenge. Despite their differing constellations, what these conflicts have in common is poor governance and its concomitant side-effects, ranging from corruption and oppression to poor socio- economic participation and a general lack of prospects, which in turn represents a leading cause of insecurity. Poor governance, on the other hand, tends to be closely associated with a loss of legitimacy and authority, favouring a spiral of violence and subsequent conflicts. At the same time, the nature of the conflicts has changed very profoundly. In addition to conflicts perceived as ethno-political, or disputes over power and resource distribution, one is confronted with transnational terrorist violence combined with organised crime, diminishing resources, and climate change: factors that collectively contribute to the weakening of governmental structures.
The African Peace and Security Architecture (APSA) leaves several questions unanswered
In consideration of the ongoing threat against peace and security, both on the African continent and about Euro-African relations, the tailoring of the African Peace and Security Architecture (APSA) is taking on central importance. Despite this, the APSA leaves several questions unanswered. The interaction between the African Union (AU) and the Regional Economic Communities (RECs), for example, remains to be properly clarified. Here, the governance aspect, i.e. a government leadership based on responsibility and integrity is key, since without this, development policy cannot be sustainably implemented. On paper, the African Union and the Regional Economic Communities (RECs) recognize this connection, which equally finds expression in the African Governance Architecture statutes (AGA). However, this does not resolve the latent tensions between the African Union and the RECs, whose cooperation essentially rests on the principles of subsidiarity, complementarity, and comparative advantage, and thus touches on strategic as well as on political questions with partially diverging interests.
Politico-economic aspects and their effect on conflict systems
Considering a changing security environment, the project "New Approaches to Collective Security" is intending to use contextual studies und studies of both governmental and non-governmental actors to illuminate the politico-economic aspects of conflict systems. In so doing, the project hopes to contribute to the debate on the persistence of certain constellations. It aims to provide new insight into the conditions under which the functioning of conflict- management und -prevention might be improved. At the same time, this is meant to contribute to the debate about collective security in Africa, as well as about a potential need for reform and supplementation of the APSA.